Post by dinosauria101 on May 17, 2019 16:42:57 GMT 5
Acrocanthosaurus atokensis
Acrocanthosaurus ( /ˌækrɵˌkænθɵˈsɔrəs/ ak-rə-kan-thə-sor-əs; meaning "high-spined lizard") is a genus of theropod dinosaur that existed in what is now North America during the Aptian and early Albian stages of the Early Cretaceous. Like most dinosaur genera, Acrocanthosaurus contains only a single species, A. atokensis. Its fossil remains are found mainly in the U.S. states of Oklahoma, Texas, and Arkansas, although teeth attributed to Acrocanthosaurus have been found as far east as Maryland. Acrocanthosaurus was a bipedal predator. As the name suggests, it is best known for the high neural spines on many of its vertebrae, which most likely supported a ridge of muscle over the animal's neck, back and hips. Acrocanthosaurus was one of the largest theropods, approaching 12 meters (40 ft) in length, and weighing up to 6–7 metric tons (6.5–7.5 short tons). Large theropod footprints discovered in Texas may have been made by Acrocanthosaurus, although there is no direct association with skeletal remains. Recent discoveries have elucidated many details of its anatomy, allowing for specialized studies focusing on its brain structure and forelimb function. Acrocanthosaurus was the largest theropod in its ecosystem and likely an apex predator which possibly preyed on large sauropods and ornithopods.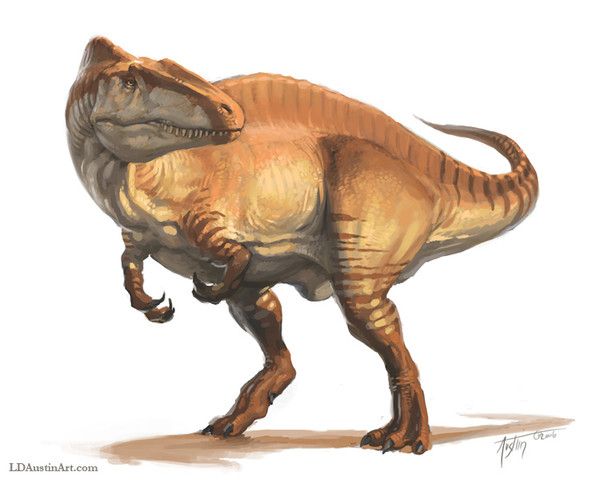 Titanoceratops ouranos
Titanoceratops (meaning "titanic horn face") is a genus of herbivorous ceratopsian dinosaur. It was a giant chasmosaurine ceratopsian which lived during the Late Cretaceous period (late Campanian, 74.5–73.7 Ma) in what is now New Mexico, and the earliest known triceratopsin. It is known solely from the holotype OMNH 10165, a partial skeleton including partial skull and jaws. The holotype is thought to come from the upper Fruitland Formation or the lower Kirtland Formation based on field notes and the lithology of the matrix surrounding the fossils, but unfortunately the precise location of the quarry is no longer known. The species was formally named by Nicholas R. Longrich in 2011 and the type species is Titanoceratops ouranos. Previously, its fossils were assigned to Pentaceratops. The skull is estimated to be 2.65 m (8.7 ft) long when complete, making it a candidate for the longest skull of any terrestrial vertebrate. It would have been at least 6.8 meters long (22.3 ft) and at least 6.5 tons in weight. Tom Holtz (2010) noted that it is extremely similar to its closely related contemporaries Eotriceratops and Ojoceratops, which may all be synonymous.
Credit to Wikipedia