Post by Infinity Blade on Jan 19, 2016 9:41:15 GMT 5
Cimolichthys spp.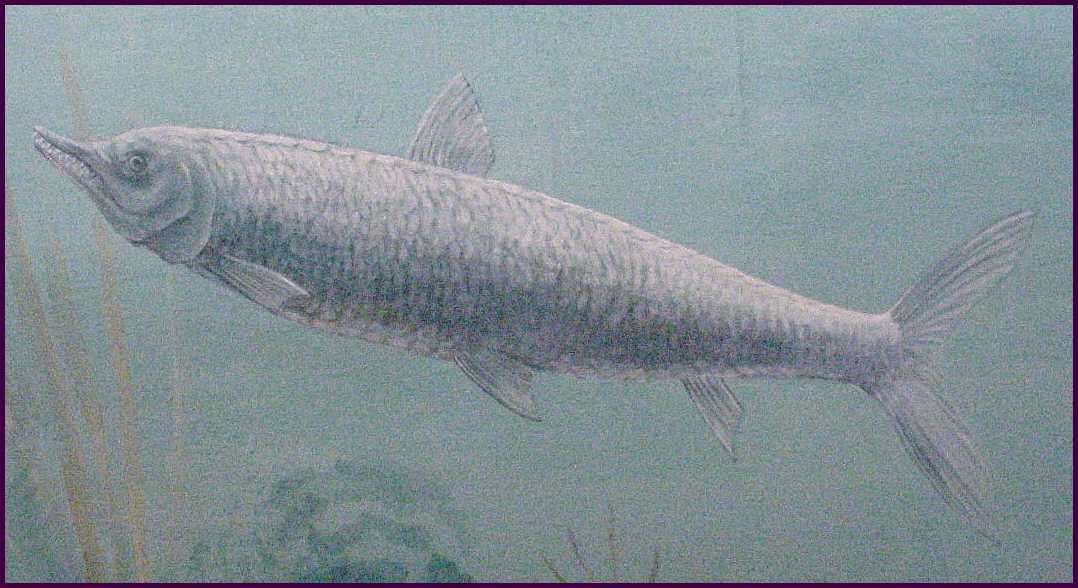 Cimolichthys nepaholica
as part of a mural in the University of Kansas Museum of Natural History, Lawrence, Kansas.
Temporal range: Late Cretaceous (Turonian to Maastrichtian[1][2])
Scientific classification:
Life
Domain:
Eukaryota
(unranked):
Unikonta
(unranked):
Opisthokonta
(unranked):
Holozoa
(unranked):
Filozoa
Kingdom:
Animalia
Subkingdom:
Eumetazoa
(unranked):
Bilateria
Clade:
Nephrozoa
Superphylum:
Deuterostomia
Phylum:
Chordata
Clade:
Olfactores
Clade:
Craniata
Subphylum:
Vertebrata
Infraphylum:
Gnathostomata
Clade:
Eugnathostomata
Clade:
Teleostomi
Clade:
Euteleostomi
Class:
Actinopterygii
(unranked):
Actinopteri
Subclass:
Neopterygii
Infraclass:
Teleostei
Order:
Aulopiformes
Suborder: †
Cimolichthyoidea
Family: †
Cimolichthyidae
Genus: †
Cimolichthys
Species: †
C. anceps
†
C. nepaholica
†
C. gladiolus
†
C. levesiensis
†
C. semianceps
†
C. sulcatus
Skeleton of
Cimolichthys
.
Cimolichthys
was a genus of predatory aulopiform actinopterygian that lived in North America and Europe from the Turonian to Maastrichian stages of the Late Cretaceous.[1][2]
Description:
Cimolichthys
could grow to 2 meters in body length.[1] It possessed multiple rows of flank scutes. Said scutes have the shape of an elongated hexagon with strengthened ridges that run across both the long and short axes with irregular tuberculate ornament.[2]
Cimolichthys
' lower jaw had three rows of teeth.[1][2] The outer row teeth were needle-like, the middle row had somewhat larger teeth, and the inner row had widely spaced fangs. The genus had characteristic barbed teeth, but these were limited to the palate. The sigmoidal teeth had carinae; there was a complete anterior carina and a distally restricted posterior carina that formed a distinctive post-apical barb. The carinae bore fine serrations.[2]
Jaws of
Cimolichthys
.
Paleobiology:
Judging from its dentition and fossil remains,
Cimolichthys
was clearly carnivorous.
Cimolichthys
is often thought of as a Cretaceous equivalent to a barracuda or freshwater pike.[1] It evidently preyed on rather large prey, as some specimens have been found with undigested meals inside. One specimen of
Cimolichthys
was found with a squid (
Tusoteuthis longa
) lodged in its mouth. The squid was attempted to be swallowed tail first, as the gladius was found inside the body. The
Cimolichthys
' open mouth suggests that the squid's tentacles and part of its head were sticking out as it was being swallowed. This blocked oxygen from getting into the gills, killing the specimen.[2][3]

Cimolichthys
specimen with
Tusoteuthis
stuck in its mouth.
Another
Cimolichthys
specimen contained a large
Enchodus
in addition to a smaller, unidentified "fish". Whether the
Cimolichthys
simply ate both "fish" or this being a case of "fish-in-a-fish-in-a-fish" is unknown.[2]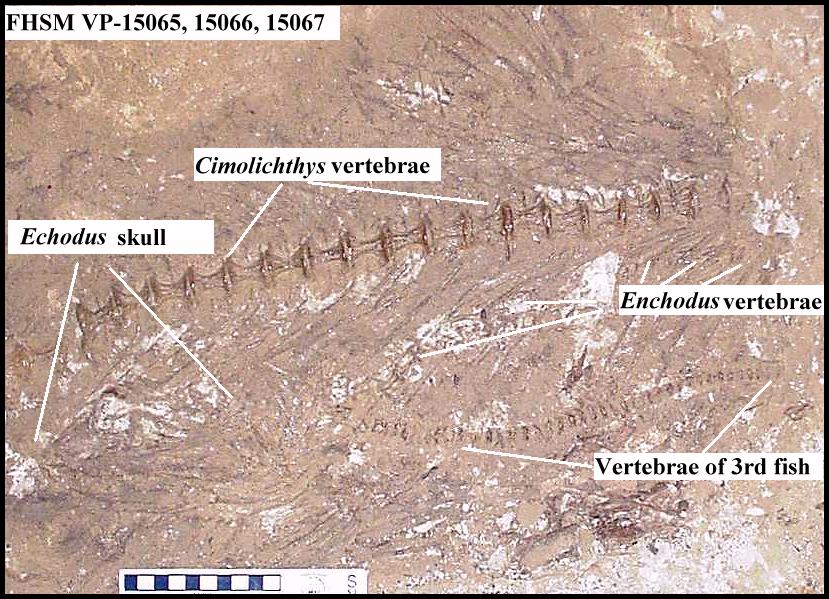 Two in one meal or fish-in-a-fish-in-a-fish?
For all its hunting prowess,
Cimolichthys
was likely preyed upon by larger "fish" and mosasaurs. Partially digested
Cimolichthys
vertebrae were found in the abdominal region of a
Tylosaurus proriger
. And while it hasn't been recorded as part of the stomach contents of other predators, many of the severed tails found in the chalk belong to
Cimolichthys
.[1]
References:
[1]
oceansofkansas.com/Cimolich.html
[2] "
Ray-finned fishes (
Osteichthyes
,
Actinopterygii
) from the type Maastrichtian, the Netherlands and Belgium
" (Friedman, 2012).
[3] "
Cretaceous fish predation on a large squid
" (Kauffman, 1990).