Post by Infinity Blade on Jan 20, 2016 8:49:08 GMT 5
Enchodus spp.
Life restoration of
Enchodus
. © @
Evan Boucher
Temporal range: Early Cretaceous to Middle Paleogene (Albian to Ypresian; ~112.6-55.8Ma[1])
Scientific classification:
Life
Domain:
Eukaryota
(unranked):
Unikonta
(unranked):
Opisthokonta
(unranked):
Holozoa
(unranked):
Filozoa
Kingdom:
Animalia
Subkingdom:
Eumetazoa
(unranked):
Bilateria
Clade:
Nephrozoa
Superphylum:
Deuterostomia
Phylum:
Chordata
Clade:
Olfactores
Clade:
Craniata
Subphylum:
Vertebrata
Infraphylum:
Gnathostomata
Clade:
Eugnathostomata
Clade:
Teleostomi
Clade:
Euteleostomi
Class:
Actinopterygii
(unranked):
Actinopteri
Subclass:
Neopterygii
Infraclass:
Teleosti
Superorder:
Protocanthopterygii
Order:
Salmoniformes
Suborder: †
Enchodontoidea
Family: †
Enchodontidae
Genus: †
Enchodus
Species: †
E. amicrodus
†
E. ferox
†
E. elegans
†
E. gladiolus
†
E. libyus
†
E. parvus
†
E. petrosus
†
E. schumardi
Skeleton of
Enchodus petrosus
.
Enchodus
is an extinct genus of salmoniform actinopterygian that lived from the Early Cretaceous to the middle of the Paleogene about 112.6-55.8 million years ago.[1] Having persisted through the Cretaceous and into the Paleogene[2], it survived the Cretaceous-Paleogene extinction event.
Distribution:
Enchodus
lived in what are now different countries in different continents. In Cretaceous sediments, it has been found in Bolivia, Brazil, Canada (Alberta, Manitoba, Northwest Territories, Saskatchewan), Egypt, Equatorial Guinea, France, India, Israel, Italy, Japan, Jordan, Lebanon, Mexico, Niger, Palestinian Territory, Spain, Syria, and the United States (Alabama, California, Colorado, Delaware, Georgia, Kansas, Maryland, Mississippi, New Jersey, North Carolina, North Dakota, South Carolina, South Dakota, Tennessee, Texas, Utah). In sediments transitioning from the Cretaceous to the Paleogene, it has been found in both Arkansas and New Jersey. In Paleocene exclusive sediments, it has been found in New Jersey. In sediments transitioning from the Paleocene to the Eocene, it has been found in India and Saudi Arabia.[2]
Description:
Enchodus
was a small to medium sized predator. It is best known for its hypertrophied "fangs" at the anterior region of its jaws, earning it the nickname "saber-toothed herring" (although it was not related to herrings).[2]
The fangs were located near the symphysis on the dentary (lower jaw) and the palate (upper jaw). As with all other enchodontids,
Enchodus
' dentary fangs were so long that they were accomodated by a pair of fenestrations in the snout and the distal tips would have approached the dorsal surface of the rostrum when the jaws closed. The dentary fangs each bore only one carina. Also, the dentary fangs, in addition to the shorter, homodont teeth behind them, are inset from the outer margin of the jaw. A series of smaller accessory teeth flanked the aforementioned row laterally, giving it two rows of teeth in its lower jaw. All of the teeth were fused to the underlying bone. The ventral surface of the lower jaw has a series of finger-like projections immediately below the dentary fangs. The palatine fangs existed on the bulbous palatine bone of the palate. Unlike the dentary fangs, the palatine fangs each possessed two carinae. Both fangs are distinctively sigmoidal in morphology and sometimes even bear striations. There are about five widely spaced ectopterygoid teeth that gradually decrease in size posteriorly. None of the teeth bore serrations.[3]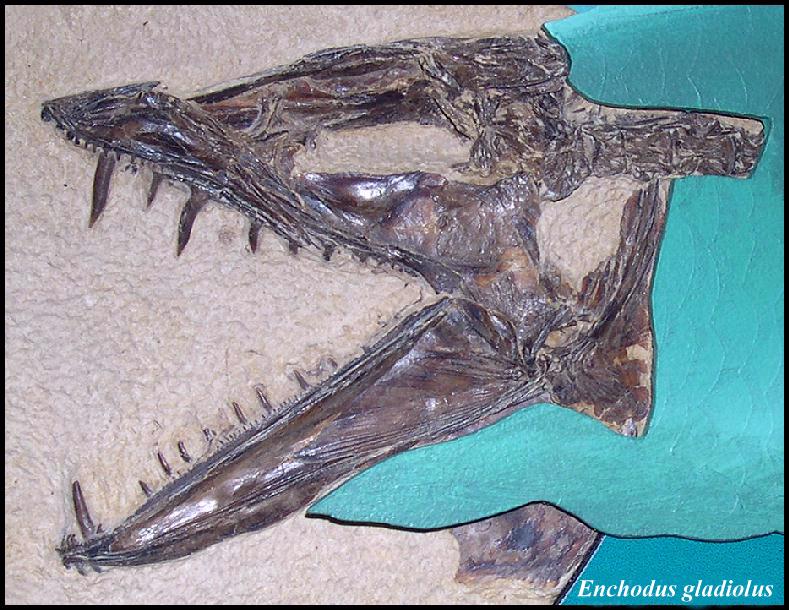 Jaws of
E. gladiolus
.
Enchodus
had a row of mid-line scutes running along the dorsal ridge between the back of the skull and the dorsal fin. Somewhat unusual for an aulopiform is that it did not possess expanded flank scutes. Whenever present, the ridge scutes were bilaterally symmetrical and oval in shape, distinguishing it from
Cimolichthys
or dercetids.[3]
Paleobiology:
Enchodus
was clearly a nektonic carnivore.[1] It would, however, have been fed upon by larger contemporary predators such as
Cimolichthys
, sharks (like
Squalicorax falcatus
, and elasmosaurs).[2]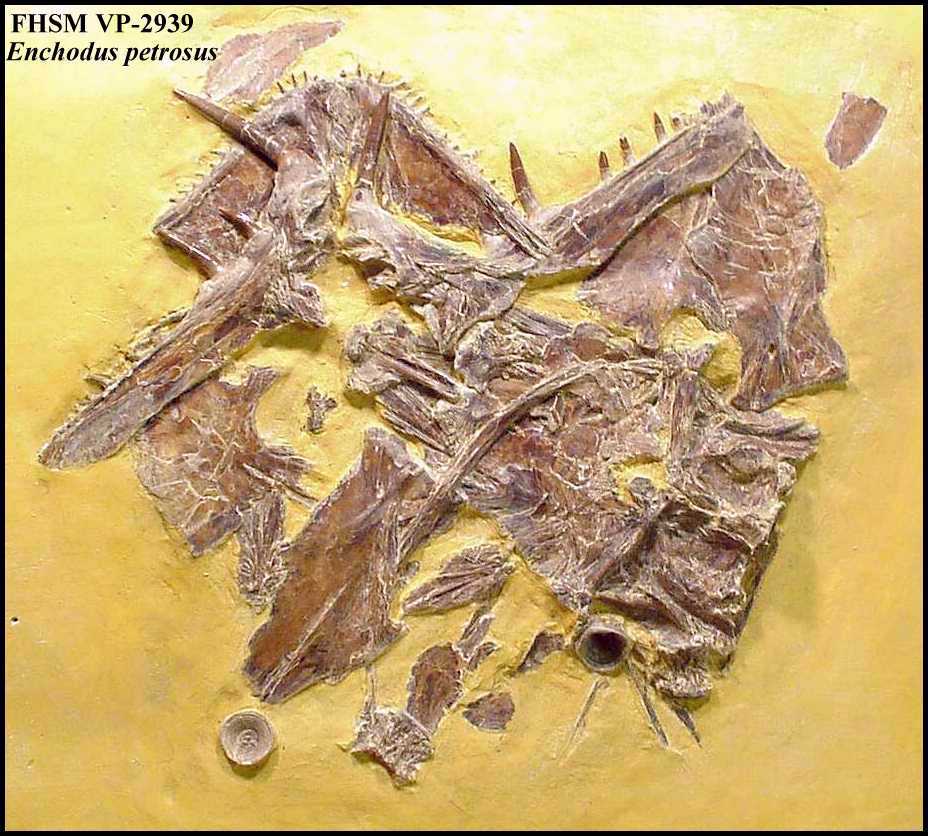 Skull of
E. petrosus
that was fed upon by scavengers.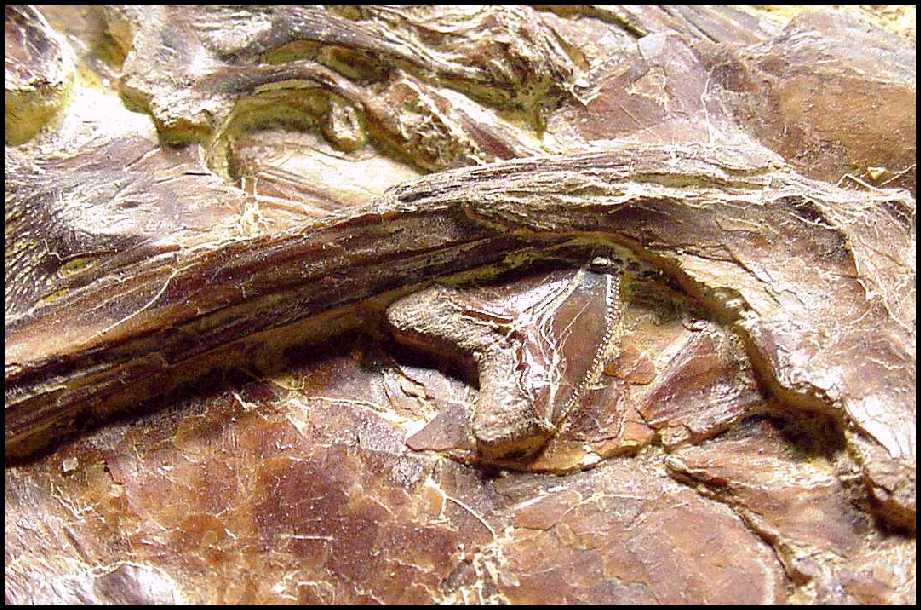 Closeup of the skull with a
Squalicorax falcatus
tooth.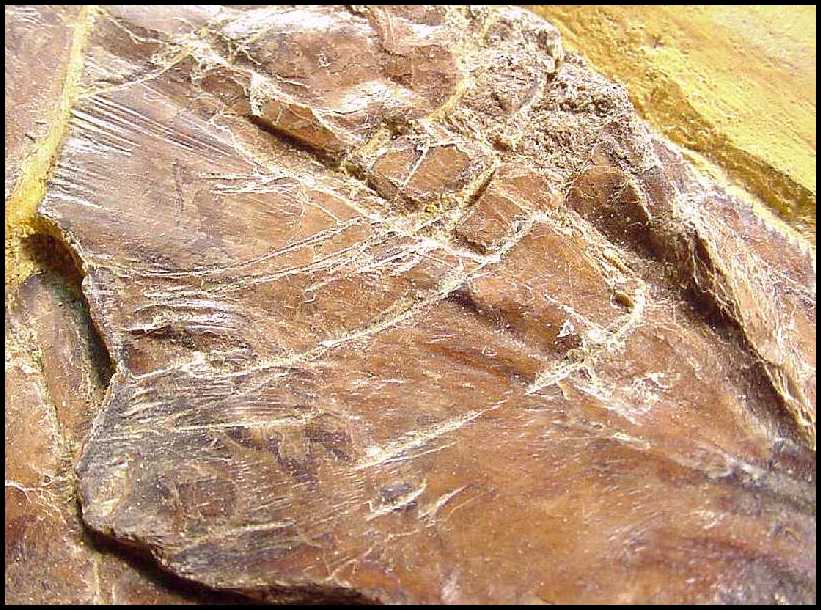 Shark bite marks on the skull.
References:
[1]
fossilworks.org/?a=taxonInfo&taxon_no=35564#
[2]
oceansofkansas.com/enchodus.html
[3] "
Ray-finned fishes (
Osteichthyes
,
Actinopterygii
) from the type Maastrichtian, the Netherlands and Belgium
" (Friedman, 2012).