Post by Infinity Blade on Jan 22, 2016 8:59:26 GMT 5
Pachyrhizodus spp.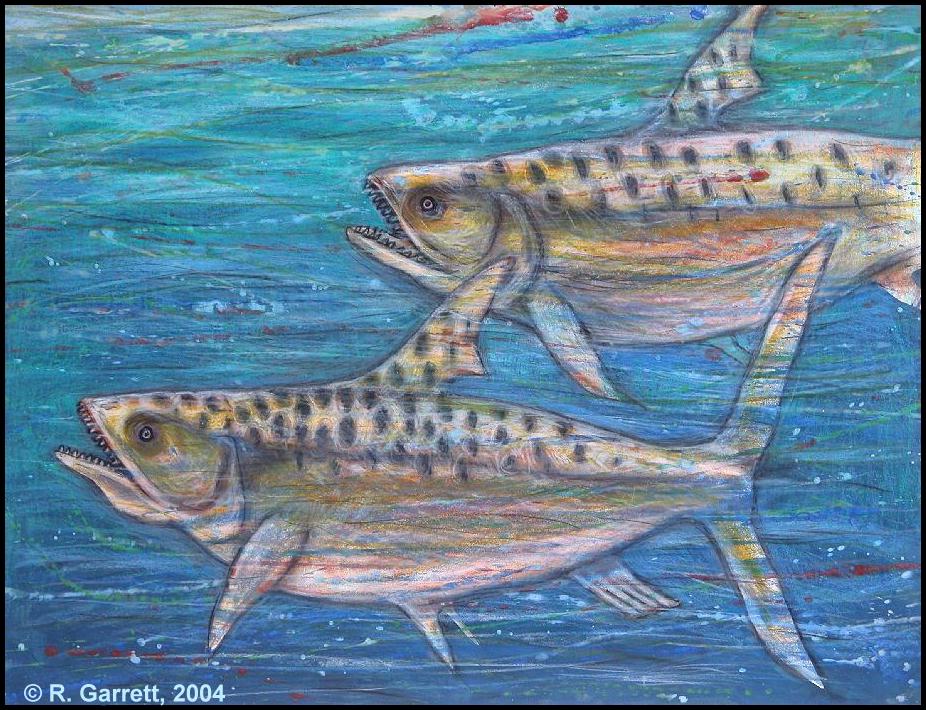 Life restoration of
Pachyrhizodus
.
Temporal range: Late Cretaceous (Coniacian to Maastrichtian[explanation below])
Scientific classification:
Life
Domain:
Eukaryota
(unranked):
Unikonta
(unranked):
Opisthokonta
(unranked):
Holozoa
(unranked):
Filozoa
Kingdom:
Animalia
Subkingdom:
Eumetazoa
(unranked):
Bilateria
Clade:
Nephrozoa
Superphylum:
Deuterostomia
Phylum:
Chordata
Clade:
Olfactores
Clade:
Craniata
Subphylum:
Vertebrata
Infraphylum:
Gnathostomata
Clade:
Eugnathostomata
Clade:
Teleostomi
Clade:
Euteleostomi
Class:
Actinopterygii
(unranked):
Actinopteri
Subclass:
Neopterygii
Infraclass:
Teleosti
[3]
Order:
Elopiformes
Suborder: †
Pachyrhizodontoidei
[3]
Family: †
Pachyrhizodontidae
Genus: †
Pachyrhizodus
Species: †
P. caninus
†
P. etayoi
†
P. leptopsis
†
P. minimusPachyrhizodus
is an extinct genus of elopiform actinopterygian that lived from the Coniacian to the Maastrichtian, as it was found in the Smoky Hill Chalk[1] (which dates to the former stage[2]) and the type Maastrichtian.[3]
Phylogeny:
The phylogenetic position of pachyrhizodontoids in relation to other actiopterygians has been unclear, but it seems that they nest with extant teleosts.[3]
Description:
Pachyrhizodus
was a medium sized actinopterygian that could have been 2[1][3] or even 3 meters long.[1]
Its teeth were robust and conical (subcircular in cross section) in lieu of any carinae whatsoever. Likewise, they were actually fused to the underlying bone with notably swollen bony collars. The broad gaps between consecutive teeth were filled by depressions on the inner surfaces of the jaw bones.[3]
An interesting thing to note is that
Pachyrhizodus
' jaws and conical, widely spaced teeth can and have been confused with those of marine reptiles such as mosasaurs.[1][3] Indeed, fragmentary remains were misidentified as the oldest known mosasaur remains in North America until they were properly identified over half a century later.[3] The robusticity of the jaw elements could cause them to look too robust to come from an actinopterygian and seem like they belonged to a mosasaur.[1]
It can be reasonably inferred that with its robust jaws and robust, conical teeth lacking carinae,
Pachyrhizodus
' jaw apparatus relied on power in order to dispatch prey.
Skeleton of
Pachyrhizodus
.
References:
[1]
oceansofkansas.com/pachyrhi.html
[2]
oceansofkansas.com/fieldguide1.html
[3] "
Ray-finned fishes (
Osteichthyes
,
Actinopterygii
) from the type Maastrichtian, the Netherlands and Belgium
" (Friedman, 2012).