Post by rock on Jun 14, 2019 5:39:23 GMT 5
siberian tigeress
The Siberian tiger, a subspecies of tiger, is the largest cat in the world. It averages about 3.3 m (11 ft.) in length, with a tail measuring 1 m (3 ft.). Adult male Siberian tigers can weigh up to 320 kg (700 lb.), while females are significantly smaller, weighing up to 180 kg (400 lb.).
Siberian tigers are distinguishable by their striped fur. Similar to people's unique fingerprints, no two tigers have the same striped pattern. Siberian tigers differ from other tigers because they have fewer, paler stripes, and they also have manes. The mane, in addition to their thick fur, helps keep them warm.
Also known as the Amur tiger, the Siberian tiger resides in a small region in the southeast region Russia. They are also located in small numbers in China and North Korea.
Siberian tigers are solitary animals, marking their scent on trees to keep other tigers away. They roam many miles and hunt often. They stalk their prey, which include elk, boar, bears, and deer, until they are close enough to pounce. When successful, they drag their kill to a secluded area before devouring the meat.Tigers also hunt smaller animals like rabbits, pikas, and fish.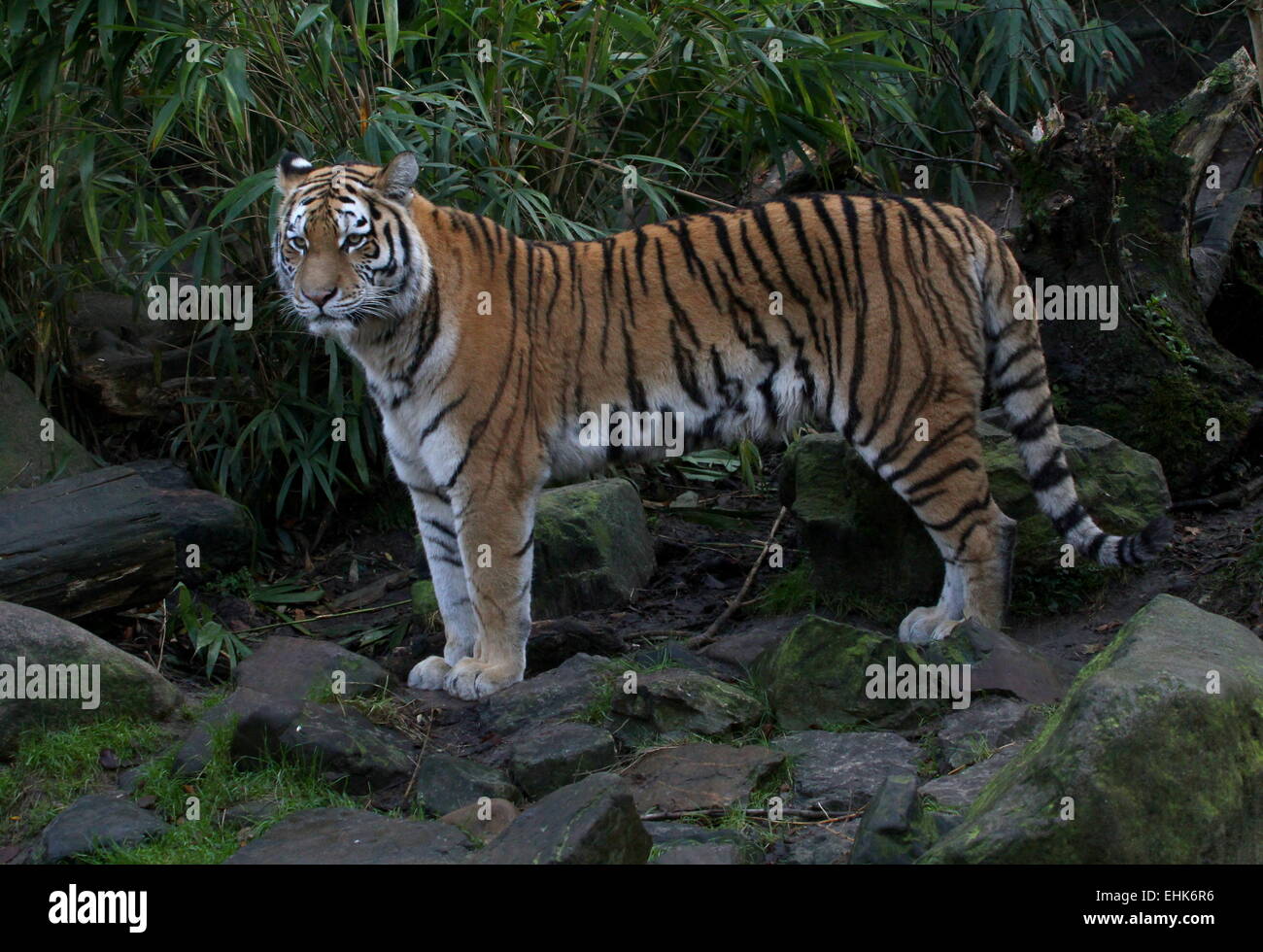 grey wolf[pack of 5]-canis lupis
The Grey Wolf (Canis lupus) is the one largest wild canids , males averaging between 70 and 110 pounds depending on subspecies. The Wolf has a specialized body that has made it one of the world's most efficient hunters. Its powerful neck is a very important adaptation: it has to be strong to support the wolf's large head and is crucial for bringing down prey. The skull is 31cm (12 inches) long and is armed with an impressive array of large canines and carnassial teeth which, when coupled with huge jaw muscles that are evident from the large sagittal crest and wide zygomatic arches, give it an incredible biteforce that is strong enough to break the bones of prey and even crack the femur of moose. Wolves primarily feed on medium to large sized ungulates (up to the size of bison 10–15 times larger than themselves), though they are not fussy eaters. Medium and small sized animals that may supplement the diet of wolves include marmots, beaver, hares, badgers, foxes, weasels, ground squirrels, mice, hamsters, voles and other rodents, as well as insectivores.