Post by Infinity Blade on Jul 27, 2015 6:53:09 GMT 5
Tetrapodophis amplectus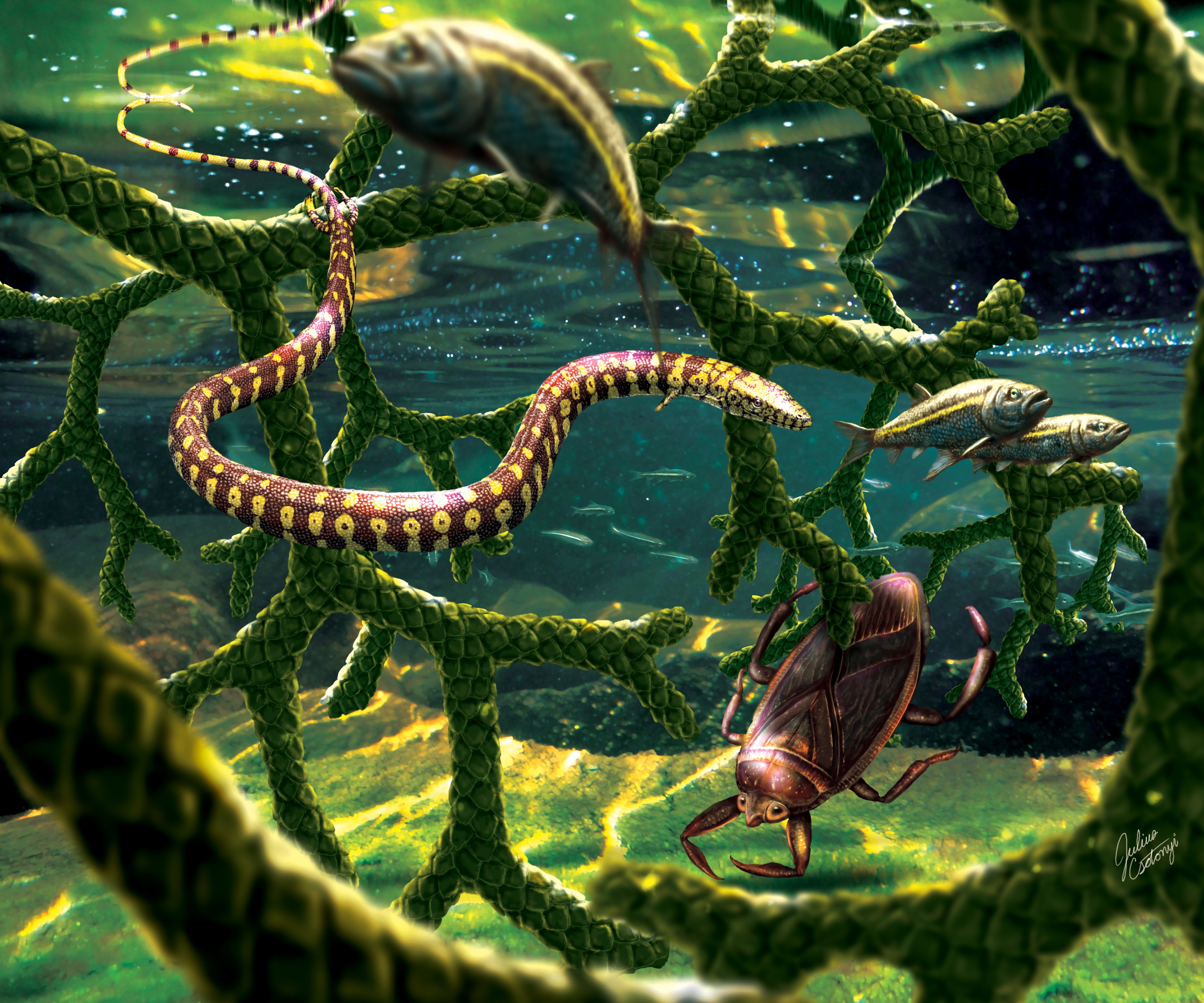 Up to date restoration of
Tetrapodophis
as an aquatic tiny mosasauroid. © @ Julius Csotonyi.
Temporal range: Early Cretaceous (Albian: ~112Ma)
Scientific classification:
Life
Domain:
Eukaryota
(unranked):
Unikonta
(unranked):
Opisthokonta
(unranked):
Holozoa
(unranked):
Filozoa
Kingdom:
Animalia
Subkingdom:
Eumetazoa
(unranked):
Bilateria
Clade:
Nephrozoa
Superphylum:
Deuterostomia
Phylum:
Chordata
Subphylum:
Olfactores
Clade:
Craniata
Subphylum:
Vertebrata
Infraphylum:
Gnathostomata
Clade:
Eugnathostomata
Clade:
Teleostomi
Superclass:
Tetrapoda
Clade:
Reptiliomorpha
Clade:
Amniota
Class:
Reptilia
or Clade:
Sauropsida
Clade:
Eureptilia
Clade:
Romeriida
Clade:
Diapsida
Clade:
Neodiapsida
Clade:
Sauria
Infraclass:
Lepidosauromorpha
Superorder:
Lepidosauria
Order:
Squamata
Genus: †
Tetrapodophis
Species: †
T. amplectusTetrapodophis amplectus
("four-legged snake") was a species of snake that lived in the early Cretaceous of Brazil. It lived in what is now the Crato Formation, which dates to about ~112 million years ago.[1]
Discovery:
David Martill from the University of Portsmouth was showing some students the fossils in the museum. He noticed an unusual fossil specimen (labeled as unknown) of what appeared to be a snake embedded in rock from the Crato Formation of Brazil (snakes were known from this time but never in the Crato Formation and in South America but never this early). Even more unusual was the fact that both hindlimbs and forelimbs were present in the fossil snake. Hence, Martill dubbed the animal
Tetrapodophis
: "four-legged snake".[2]
Significance to understanding of snake evolution:
There are two theories that have been proposed to explain the nature of the evolution of snakes. One proposes that the ancestors of snakes were aquatic and evolved back into a terrestrial lifestyle. The other proposes that snakes are descended from burrowing lizards that evolved long, limbless bodies in order to facilitate movement in the ground.
Tetrapodophis
helps to prove the latter theory. It lacked aquatic adaptations and possessed ones for burrowing.[2][3]
Description:
Tetrapodophis
was a snake with four limbs; no other snake known fills this description. Its dentition pointed backwards and its jaw morphology suggests a wide gape that allowed for swallowing large food items. A single row of belly scutes were present.[2][3]
Paleobiology:
Like extant snakes,
Tetrapodophis
was carnivorous. Not only do its jaw and dental morphologies correspond to one, but the holotype specimen had bones in its gut contents.[2][3]
Martill proposed that
Tetrapodophis
killed its prey with constriction, similar to some extant snakes. He even suggested that the limbs may even have played a role in prey restraint (as well as in mating).[2][3]
Dispute over affinities:
Michael Caldwell of the University of Alberta was stated to have been uncertain of
Tetrapodophis
' snake affinities. Susan Evans from University College London also expressed uncertainties as to whether
Tetrapodophis
was truly a snake. They both agree further scrutinization is needed. Ed Yong stated that it may actually be possible that
Tetrapodophis
may in fact not be a snake. He noted that squamates have independently evolved a snake-like bauplan at least 26 times, making true snakes just one of many clades of legless lizards. On the other hand, David Martill maintains that
Tetrapodophis
displays ample anatomical features that suggest it was a snake.[2]
Family tree:
David Martill and Nicholas R. Longrich proposed a family tree where
Tetrapodophis
is preceded by the earliest known snakes but still a snake.[2][3] The aforementioned preceding snakes actually possessed two limbs instead of four. This implies that
Tetrapodophis
was a taxon of four-legged snake that survived long enough to live at the same time as two-legged snakes, which are nonetheless likely the descendants of four-legged snakes.[2] That is, it represents an evolutionary path distinct from the one that lead to snakes with reduced limbs.
References:
[1] "
The Crato fossil beds of Brazil: window into an ancient world
" (Martill et al., 2007).
[2]
A Fossil Snake With Four Legs
(by Ed Yong)
[3] "
A four-legged snake from the Early Cretaceous of Gondwana
" (Martill et al., 2015).