Post by Infinity Blade on Jan 21, 2016 8:44:47 GMT 5
Protosphyraena spp.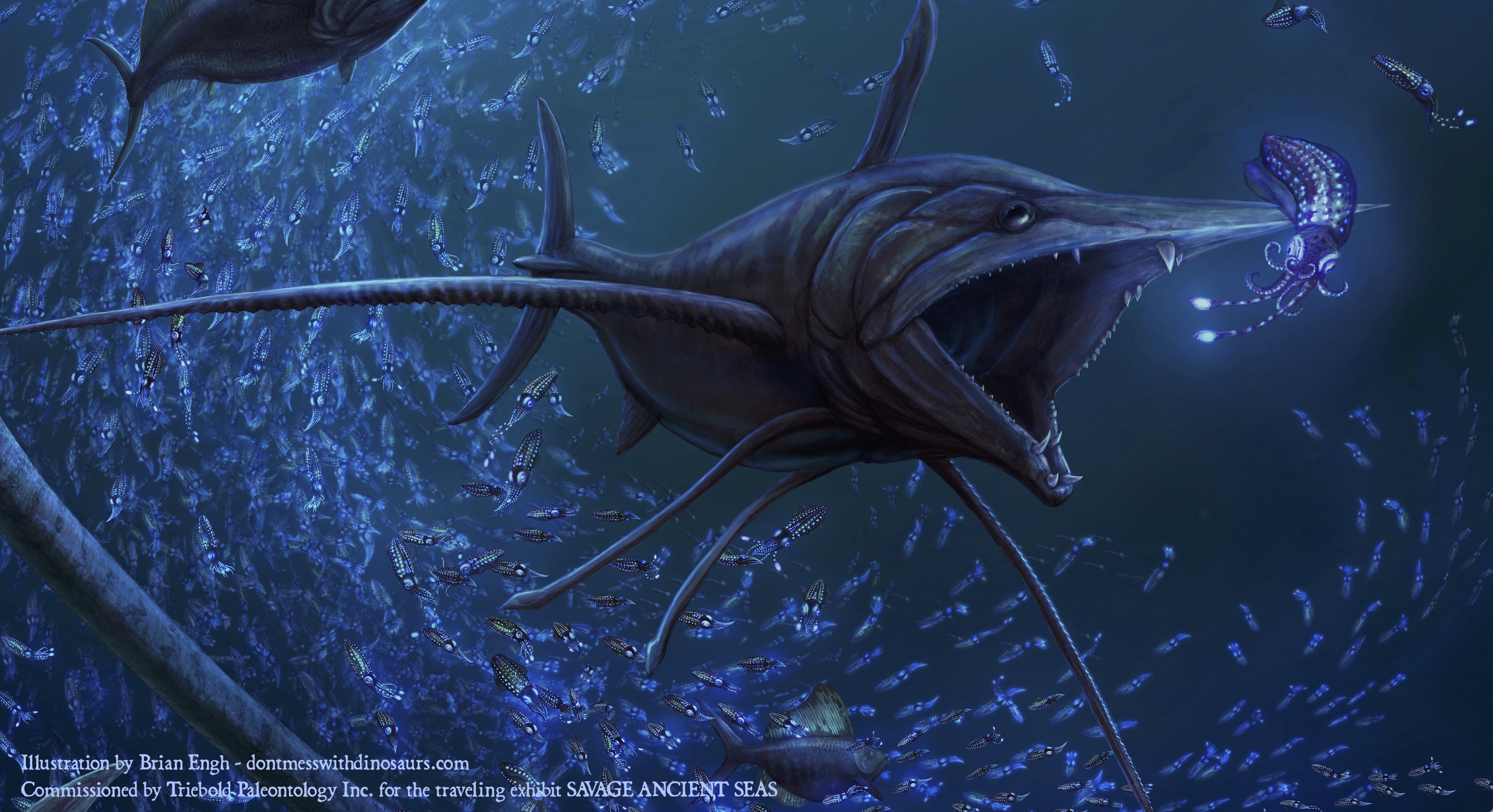 © @
Brian Engh
Temporal range: Late Cretaceous (Coniacian to Maastrichtian [explanation below])
Scientific classification:
Life
Domain:
Eukaryota
(unranked):
Unikonta
(unranked):
Opisthokonta
(unranked):
Holozoa
(unranked):
Filozoa
Kingdom:
Animalia
Subkingdom:
Eumetazoa
(unranked):
Bilateria
Clade:
Nephrozoa
Superphylum:
Deuterostomia
Phylum:
Chordata
Clade:
Olfactores
Clade:
Craniata
Subphylum:
Vertebrata
Infraphylum:
Gnathostomata
Clade:
Eugnathostomata
Clade:
Teleostomi
Clade:
Euteleostomi
Class:
Actinopterygii
(unranked):
Actinopteri
Subclass:
Neopterygii
Infraclass:
Holostei
Order: †
Pachycormiformes
Family: †
Pachycormidae
Genus: †
Protosphyraena
Species: †
P. perniciosa
†
P. gladius
†
P. nitidaProtosphyraena
("first barracuda or pike-like fish"[4]) was a genus of pachycormiform actionopterygian that lived in the Western Interior Seaway (North America), Europe, and Japan[1] from the Coniacian (as it lived in the Smoky Hill Chalk[1], which is dated to this age[2]) to the Maastrichtian.[3]
Description:
Protosphyraena
was a rather large animal.
P. perniciosa
was about 3 meters long while the other two species were around 2 meters long or less. It would have looked something like a modern swordfish with a sharp, extended upper rostrum and sickle-shaped pectoral fins.[1]
Arguably, one of its most distinctive features was the long, sharp beak akin to a modern swordfish. It was rounded in cross section, had an unusual external texture, and made of strong fibers.[1][2]
The teeth were large, lanciform, and lateromedially compressed with unserrated bicarinae, giving them a blade-like morphology.[1][2] Usually, the tooth alveoli were shallow, although sometimes the tooth could be fused to the underlying bone.[2] There were three tooth morphologies; the large blade-like teeth were on the outer edge, smaller, supposedly blunt teeth inside, and on the posterior region of the palate was a third row with sharp, needle-like teeth. The jaws, like the rostrum, were apparently also fibrous.[1][4]
The pectoral fins of
P. perniciosa
and
P. tenuis
had saw-toothed, serrated cutting edges, while those of
P. nitidia
had fine grooves at right angles to the edges instead.[1] These are believed to have been used as slashing weapons.[1][4]
All these features gave
Protosphyraena
a formidable armament in life, which may be summarized by an excerpt from Charles Sternberg's
Hunting Dinosaurs on the Red Deer River, Alberta, Canada
(1917, p. 167-168).
"
… I used to think that the man-eating sharks off the Florida coast were the most blood-thirsty of the order, but this one is still worse. Notice the head is prolonged in front into a long round bony snout, or ram. On account of this, I called it a snout fish, when I first discovered their bones in the Kansas Chalk. The ram ends, you notice, in a sharp point eight or ten inches long. Then at the end of the mouth there are four lance-like teeth projecting forward and outward. The object of these is to cut wider the breach his ram makes in the quivering flesh of a mosasaur, so he can force his head into the bleeding flesh to the eye rims. But his most terrible weapons are his pectoral fins. See, they are four feet long, serrated on the cutting or outer edge, enameled, and as sharp as a knife. They can be locked, and stand out straight from the body. A sudden swing would, if he was close to a mosasaur, cut a gash several feet long in its vitals. See these fins span over eight feet. I pity the fish or reptile that comes his way.
"
References:
[1]
oceansofkansas.com/protosphyr.html
[2]
oceansofkansas.com/fieldguide1.html
[3] "
Ray-finned fishes (
Osteichthyes
,
Actinopterygii
) from the type Maastrichtian, the Netherlands and Belgium
" (Friedman, 2012).
[4]
Swordfish: A Biography of the Ocean Gladiator
(Richard Ellis, 2013).