Post by Infinity Blade on May 25, 2020 21:56:24 GMT 5
Thylacosmilus atrox
Reconstruction of
T. atrox
.
Image source->
Temporal range:
Late Miocene to mid-Pliocene; Huayquerian to Chapadmalan (~9-3 Ma)[1]
Scientific classification:
Life
Clade:
Neomura
Domain:
Eukaryota
(unranked):
Unikonta
(unranked):
Opisthokonta
(unranked):
Holozoa
(unranked):
Filozoa
Kingdom:
Animalia
Phylum:
Chordata
Subkingdom:
Eumetazoa
(unranked):
Bilateria
Superphylum:
Deuterostomia
Phylum:
Chordata
Infraphylum:
Gnathostomata
Clade:
Eugnathostomata
Clade:
Teleostomi
Superclass:
Tetrapoda
Clade:
Reptiliomorpha
Clade:
Amniota
Clade:
Synapsida
Clade:
Eupelycosauria
Clade:
Sphenacodontia
Clade:
Sphenacodontoidea
Order:
Therapsida
Suborder:
Cynodontia
Clade:
Prozostrodontia
Clade:
Mammaliaformes
Class:
Mammalia
Legion:
Cladotheria
Sublegion:
Zatheria
Infralegion:
Tribosphenida
Subclass:
Theria
Infraclass:
Metatheria
Order: †
Sparassodonta
Superfamily: †
Borhyaenoidea
[2]
Family: †
Thylacosmilidae
Genus: †
Thylacosmilus
Species: †
T. atroxThylacosmilus atrox
("cruel pouch knife") is an extinct metatherian carnivorous mammal that belonged to the extinct order
Sparassodonta
, a sister taxon to crown marsupials.[3] It lived in Argentina and Uruguay[4] from the earliest Huayquerian to the latest Chapadmalan South American Land Mammal Ages (corresponding to the Late Miocene to mid-Pliocene epochs) from ~9-3 million years ago[1], existing for ~6 million years.
Description and paleobiology:
Thylacosmilus
is arguably the most famous sparassodont for its close resemblance to the famous saber-toothed cat
Smilodon
. Its most distinctive feature are its enlarged upper canines similar to the saber teeth of machairodontines, and this has commonly led to assertions that
Smilodon
and
Thylacosmilus
represent an example of convergent evolution.[5]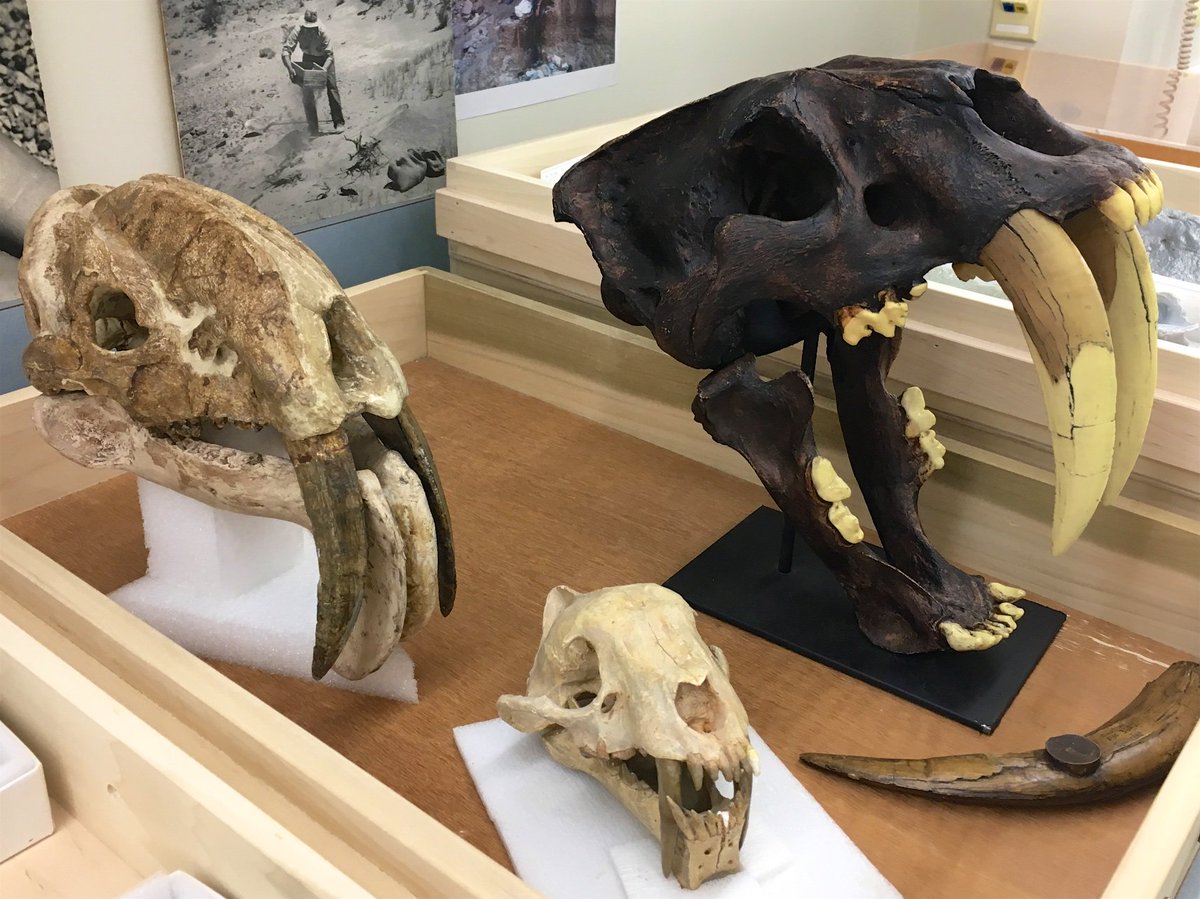 Direct comparison of the skulls of the sparassodont
Thylacosmilus
(left), the nimravid
Hoplophoneus
(middle), and the felid
Smilodon
(right).
Image source->
Unlike the upper canines of machairodontines, these saber teeth were perpetually growing and deeply anchored in the maxilla.[4] They were more sub-triangular in cross section for most of their length[6], as opposed to elliptical like the canines of machairodontines. Also unlike
Smilodon
, but like some earlier carnivoran sabertooths (i.e. nimravids and barbourofelids),
Thylacosmilus
had prominent bony symphyseal flanges that protected its upper canines when the mouth was closed. The enamel was extremely thin and generally restricted to the lateral surface, being no more than a fifth or a quarter millimeter thick.[6][7] The denticulations (i.e. denticles or serrations) on the upper canines are described as being very minute and barely visible to the naked eye.[6] These canines were sharpened by wear from the far smaller lower canines (this is known as thegosis).[7]
Comparison of the canine teeth of
Smilodon fatalis
and
Thylacosmilus atrox
. The latter's teeth are far more deeply rooted. Fig. 1 of [5].
Thylacosmilus
' dental formula has been rather contentious, particularly in the number of incisors. One specimen clearly had at least one pair of lower incisors, possibly more. Wear facets on the lower incisors indicate that upper incisors were present as well[4] (upper incisors from
Thylacosmilus
have not been found so far). Two premolars existed in each jaw; the last upper premolar has been interpreted as a retained deciduous element.[4]
Physical observations and biomechanical modeling have revealed the function of
Thylacosmilus
' jaws and neck.
Thylacosmilus
had a relatively long and flexible neck (longer and more flexible than those of other borhyaenoids) with hyper-developed neck musculature. This neck musculature not only allowed for extremely powerful ventroflexion, but also controlled the head and canines with great precision, to protect the canines from fracture when attacking.[8] The canine bite force of
Thylacosmilus
at maximum gape was an astonishingly low 38 Newtons. This was far lower than even the 519 N estimated for
Smilodon fatalis
, and proportionately far less than the 484 N estimated for
Panthera pardus
("
At maximum gape,
Thylacosmilus atrox
would need to generate 14.5 times the jaw adductor muscle force of
P. pardus
in order to achieve a bite force consistent with its body mass.
"). However, when forces from the neck muscles were applied, "mean" brick element stresses were comparable in
S. fatalis
and
P. pardus
, and relatively low in
T. atrox
. The skull of
Thylacosmilus
was even better able to resist stress from head depressors than that of
Smilodon
. This has been taken to mean that, while
Smilodon
would have still had some use for its mandible for a "canine shear bite" in conjunction with its neck, almost all of the saber-driving force in
Thylacosmilus
was from its neck, and therefore that its mandible played no major role in prey dispatch. As such,
Thylacosmilus
represents an even more extreme commitment to the sabertooth lifestyle than does
Smilodon
.[9] Interestingly, the skull morphology of
Thylacosmilus
and other metatherians seem to overlap more with those of caniforms (particularly canids, ursids, and amphicyonids) in having a narrower, pointier skull, in contrast with those of felids. Despite convergent evolution between
Thylacosmilus
and machairodontines, their skull morphologies do not overlap (interestingly, in another principle component analysis,
Thylacosmilus
finds itself isolated away from all other carnivores, seemingly closer to a long, narrower, and flatter skull).[10]
Body mass estimates for
T. atrox
vary. Ercoli and Prevosti (2011) obtained an estimate of 117.4 kg; this was similar to a femoral variable-based estimate of 116 kg by Wroe
et al.
(1999), but not similar to a femoral circumference-based estimate of 54 kg (Wroe
et al.
, 2004). Argot (2004) used other postcrania-based equations to obtain estimates of 47.5-49.5 kg, 82-86.7 kg, and 108 kg for the holotype. The largest estimate obtained was 150 kg based on condylobasal skull length (Sorkin, 2008).[4] It seems that estimates considered plausible gravitate within the 80-120 kg range.[5]
The manus was either digitigrade or semidigitigrade, while the pes was plantigrade.[4] A single proximal end of an ungual phalanx was similar in structure to that of
Borhyaena
and other borhyaenoids.[6][8] The flexor tubercle was well developed, and its articular facet was wider than tall, a condition, more similar to that of
Borhyaena
than that of
Prothylacinus
.[8] Overall, the unguals were probably similar in structure to those of
Borhyaena
.[6] The claws were clearly non-retractile, a stark contrast to the claws of eutherian sabertooths (i.e. machairodontines, nimravids, and barbourofelids).[8] Historically, this has been seen as a handicap on
Thylacosmilus
' part, hindering its ability to hunt like a true saber-toothed cat and forcing it to adopt a different method of hunting. This has led to bizarre proposals for
Thylacosmilus
modus operandi
when hunting, such as the idea that it rammed its prey.[11] However, despite the lack of grasping claws,
Thylacosmilus
seems to have had a pseudo-opposable pollex that would have improved the grasping ability of the manus.[8] Furthermore, the forelimbs possessed adaptations allowing them to not only have the power and flexibility to wrestle with prey (e.g. robust humerus, powerful deltoid and pectoral muscles), but also to absorb shock from impacting prey. The highly flexible hindlimb and hip joints, the robust and sigmoid tibia, very low position of the greater trochanter (both of which preclude fast running ability), and rigid lumbar region are consistent with the hindlimbs being used as braces when wrestling with prey.[8]
The tympanic floor and roof were morphologically complex, having at least five elements whose outgrowth participate in their formation (it should be noted, though, that the actual shape of the floor and roof is largely a function of extensive pneumatization of the middle ear's bony walls). The tympanic floor was distinctly different from those of other borhyaenoids; in
Thylacosmilus
, it was largely bony (as opposed to largely membranous in other borhyaenoids). Estimation of the habitual head posture suggests that
Thylacosmilus
had the ability to significantly incline the head, maximizing its visual field.[1]
Thylacosmilids evolved alongside large ground sloths, large meridiungulates (e.g. toxodontids and litopterns), and giant rodents. A throat bite with the saber teeth would seem well suited against meridiungulates and giant rodents, but not armored glyptodonts and pampatheres, nor large-clawed ground sloths.[8]
Extinction:
It is traditionally thought that the native South American apex predators went extinct through competition with eutherian carnivores from North America.
Thylacosmilus
in particular used to be thought to have succumbed to competition from its carnivoran ecological vicar
Smilodon
.
These claims are unsupported.
Thylacosmilus
remains are known from the Chapadmalan[1][12] (which ended 3 million years ago), but do not appear in sediments dating to any later time.[1][12] By contrast, felids (including
Smilodon
,
Puma
,
Panthera
, and
Homotherium
) are unknown from South America until the Ensenadan (which began 1.2 million years ago) onwards.[12][13][14][15] Possible reports of Chapadmalan age felids have been debunked.[12] Therefore, there is a 1.8 million year gap between the last thylacosmilids and the first South American felids (this figure is consistent with a range of a gap of 1.2-2 million years claimed in [13], and >1.5 million years claimed in [16]). This does not appear to be a product of fossil record sampling bias. The Chapadmalan is well known and has been extensively explored for more than a century.[12][13] The following is worth noting: small hypercarnivores (mustelids and
Galictis
spp.) are known in South America since the Vorohuean (=Uquian[17]), even if they were rare. Their fossil record during the Ensenadan-Holocene is also sparse and sporadic. Foxes are known in the continent since the Uquian and during the Ensenadan-Lujanian ages, and foxes and
Smilodon
are the most commonly found carnivorans from the Ensenadan. Therefore, if
Smilodon
was present in South America before the Ensenadan, its remains should be expected to be found with those of smaller carnivorans in older levels.[13]
It is possible that
Thylacosmilus
competed with the large procyonid
Chapalmalania
, but the fact that these mammals were of very different ecotypes makes this unlikely (
Thylacosmilus
was an apex predatory hypercarnivore, while
Chapalmalania
was a large omnivore).[13]
Instead, it appears that the extinction of the sparassodonts, including
Thylacosmilus
, was a result of a combination of physical and biological factors (i.e. changes in prey community and environmental changes).[13]
Hypothesized interactions between
Thylacosmilus
and
Smilodon
like that depicted here are anachronistic; the former went extinct 1.8 million years before the latter appeared on the continent. Screen capture from
Life After Dinosaurs
(
link->
).
References:
[1] Forasiepi, A. M., Macphee, R. D., & del Pino, S. H. (2019).
Caudal Cranium of Thylacosmilus atrox (Mammalia, Metatheria, Sparassodonta), a South American Predaceous Sabertooth
. Bulletin of the American Museum of Natural History, 2019(433), 1-66.
[2] Forasiepi, A. M. (2009).
Osteology of Arctodictis sinclairi (Mammalia, Metatheria, Sparassodonta) and phylogeny of Cenozoic metatherian carnivores from South America
. Monografías del Museo Argentino de Ciencias Naturales, 6, 1-174.
[3] Vizcaíno, SF, Kay, RF, & Bargo, MS (Eds.). (2012).
Early Miocene paleobiology in Patagonia: high-latitude paleocommunities of the Santa Cruz Formation
. Cambridge University Press. p. 174
[4] Prevosti, F. J., & Forasiepi, A. M. (2018).
Evolution of South American mammalian predators during the Cenozoic: paleobiogeographic and paleoenvironmental contingencies
. Springer. p. 70
[5] Wroe, S., Chamoli, U., Parr, W. C., Clausen, P., Ridgely, R., & Witmer, L. (2013).
Comparative biomechanical modeling of metatherian and placental saber-tooths: a different kind of bite for an extreme pouched predator
. PLoS One, 8(6).

[6] Riggs, E. S. (1934).
A new marsupial saber-tooth from the Pliocene of Argentina and its relationships to other South American predacious marsupials
. Transactions of the American Philosophical Society, 24(1), 1-32.
[7] Turnbull, W. D., Butler, P. M., & Joysey, K. A. (1978). Another look at dental specialization in the extinct saber-toothed marsupial, Thylacosmilus, compared with its placental counterparts. Development, function and evolution of teeth. Academic Press, London, 399-414.
[8] Argot, C. (2004).
Functional-adaptive features and palaeobiologic implications of the postcranial skeleton of the late Miocene sabretooth borhyaenoid Thylacosmilus atrox (Metatheria)
. Alcheringa, 28(1), 229-266.
[9] Wroe, S., Chamoli, U., Parr, W. C., Clausen, P., Ridgely, R., & Witmer, L. (2013).
Comparative biomechanical modeling of metatherian and placental saber-tooths: a different kind of bite for an extreme pouched predator
. PLoS One, 8(6).
[10] Goswami, A., Milne, N., & Wroe, S. (2011).
Biting through constraints: cranial morphology, disparity and convergence across living and fossil carnivorous mammals
. Proceedings of the Royal Society B: Biological Sciences, 278(1713), 1831-1839.
[11] Goin, F. J., & Pascual, R. (1987). News on the biology and taxonomy of the marsupials Thylacosmilidae [Late Terciary of Argentina]. In Anales de la Academia Nacional de Ciencias Exactas, Físicas y Naturales de Buenos Aires (No. 39).
[12] Prevosti, F. J., & Forasiepi, A. M. (2018).
The fossil record of mammalian carnivores in south America: Bias and limitations
. In Evolution of South American Mammalian Predators During the Cenozoic: Paleobiogeographic and Paleoenvironmental Contingencies (pp. 137-154). Springer, Cham.
[13] Prevosti, F. J., Forasiepi, A., & Zimicz, N. (2013).
The evolution of the Cenozoic terrestrial mammalian predator guild in South America: competition or replacement?
. Journal of Mammalian Evolution, 20(1), 3-21.
[14] Manzuetti, A., Perea, D., Ubilla, M., & Rinderknecht, A. (2018).
First record of Smilodon fatalis Leidy, 1868 (Felidae, Machairodontinae) in the extra-Andean region of South America (late Pleistocene, Sopas Formation), Uruguay: taxonomic and paleobiogeographic implications
. Quaternary Science Reviews, 180, 57-62.
[15] Rincón, A. D., Prevosti, F. J., & Parra, G. E. (2011).
New saber-toothed cat records (Felidae: Machairodontinae) for the Pleistocene of Venezuela, and the Great American Biotic Interchange
. Journal of Vertebrate Paleontology, 31(2), 468-478.
[16] Forasiepi, A. M. (2009).
Osteology of Arctodictis sinclairi (Mammalia, Metatheria, Sparassodonta) and phylogeny of Cenozoic metatherian carnivores from South America
. Monografías del Museo Argentino de Ciencias Naturales, 6, 1-174.
[17] MacFadden, B. J. (2013).
Dispersal of Pleistocene Equus (Family Equidae) into South America and calibration of GABI 3 based on evidence from Tarija, Bolivia
. PloS one, 8(3).