Post by Infinity Blade on Jun 9, 2014 5:16:25 GMT 5
Smok wawelski
Reconstruction of
Smok wawelski
hunting a dicynodont. Pack hunting is speculative. Credit: Jakub Kowalski
Temporal range: Latest Triassic (Rhaetian; ~205-200 mya[1])
Scientific classification:
Life
Domain:
Eukaryota
(unranked):
Unikonta
(unranked):
Opisthokonta
(unranked):
Holozoa
(unranked):
Filozoa
Kingdom:
Animalia
Subkingdom:
Eumetazoa
(unranked):
Bilateria
Clade:
Nephrozoa
Superphylum:
Deuterostomia
Phylum:
Chordata
Clade:
Olfactores
Clade:
Craniata
Subphylum:
Vertebrata
Infraphylum:
Gnathostomata
Clade:
Eugnathostomata
Clade:
Teleostomi
Superclass:
Tetrapoda
Clade:
Reptiliomorpha
Clade:
Amniota
Class:
Reptilia
or Clade:
Sauropsida
Clade:
Eureptilia
Clade:
Romeriida
Clade:
Diapsida
Clade:
Neodiapsida
Clade:
Archelosauria
Clade:
Archosauromorpha
Clade:
Archosauriformes
Clade:
Crurotarsi
Clade:
Archosauria
Clade:
Crurotarsi
Clade:
Archosauria
Genus: †
Smok
Species: †
S. wawelskiSmok wawelski
is a species of predatory archosaur that lived in southern Poland during the Rhaetian age of the latest Triassic, roughly 205 to 200 million years ago.[1]
Description:
S. wawelski
is estimated to have been around 5 to 6 meters in length. The skull was estimated to have been ~50-60 (48-57) cm in length when complete. Although significant portions of the postcranial skeleton are missing in the holotype, it is hypothesized to have had a body plan more or less similar to that of a theropod dinosaur.[1]
Reconstructed skeleton of
S. wawelski
in the University of Warsaw.
Although
Smok
is hypothesized to have been an archosaur, it displays a mix of primitive archosaur, crocodile-line archosaur, and dinosaur characteristics. According to Niedźwiedzki
et al.
, dinosaurian characters include "
a supratemporal fossa that extends onto the frontal, three sacral vertebrae, an antitrochanter extending onto the ilium, and an anterior trochanter on the femur
".[1] The lateral surface of the braincase also features increased attachment area for pterygoideus musculature, as seen in larger, more derived theropod dinosaurs.[1] That said,
Smok
's crocodile-line archosaur characteristics include "
a triangular antorbital fenestra, flange−like palatal processes on the premaxilla and maxilla, a bifurcated articular surface for the ectopterygoid on the jugal, and a buttress on the lateral surface of the ilium above the acetabulum
".[1] Primitive archosaur characteristics include "
a seemingly non−pneumatic braincase (which clearly lacks the subsellar and lateral basipterygoid recesses: Rauhut 2004), paroccipital processes that are located dorsal to the occipital condyle, a postfrontal, spine tables on the dorsal vertebrae, and a closed acetabulum.
".[1]
Biology and habits:
The maxillary and dentary teeth of
Smok
are distally recurved and serrated along both edges.[1] This is a clear characteristic of carnivory. In 2019, several coprolites were uncovered, matched to
S. wawelski
on grounds of their dimensions, as well as their association to fossilized remains and footprints of the species. These coprolites contained fragments of the animal's serrated teeth, and could be up to 50% bone fragments by volume. Worn and broken teeth were also uncovered.[2]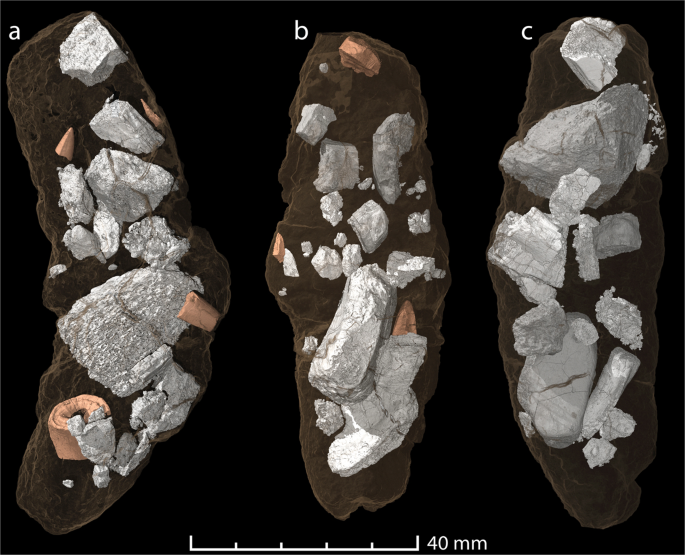 Fig. 5 of Qvarnström
et al.
(2019). Virtual reconstructions of
S. wawelski
coprolites containing bone fragments and tooth fragments.
Smok
appears to have been an osteophagous top predator in its environment, somewhat akin to tyrannosaurids. Based off of coprolite contents and tooth marks on bones, it would have preyed upon dicynodonts, fish, temnospondyls, and perhaps even small contemporaneous theropods.[2]
References:
[1] Niedźwiedzki, G.; Sulej, T.; & Dzik, J. (2012).
A large predatory archosaur from the Late Triassic of Poland
.
Acta Palaeontologica Polonica
57 (2): 267–276.
[2] Qvarnström, M.; Ahlberg, P.E.; & Niedźwiedzki, G. (2019).
Tyrannosaurid-like osteophagy by a Triassic archosaur
.
Scientific Reports
volume 9
, Article number: 925