Post by Grey on Apr 4, 2013 21:46:05 GMT 5
Carcharocles/Otodus megalodon
The
megalodon
is an extinct megatoothed shark that existed in prehistoric times, from the Oligocene to Pleistocene epochs, approximately 25 to 1.5 million years ago. Paleontological research indicates that
C. megalodon
is among the largest and most powerful macro-predatory fishes in vertebrate history.
C. megalodon
is principally known from partially preserved skeletal remains, which indicate a shark of gigantic proportions — approaching a length of around 20.3 metres (67 ft).
C. megalodon
is widely regarded as the largest shark to have ever lived. After scrutiny of its remains, scientists have assigned
C. megalodon
to the order
Lamniformes
but its phylogeny is disputed. Scientists suggest that
C. megalodon
looked like a stockier version of the great white shark,
Carcharodon carcharias
, in life. Fossil evidence confirms that
C. megalodon
had a cosmopolitan distribution.
C. megalodon
was a super-predator, and bite marks on fossil bones of its victims indicate that it preyed upon large marine animals.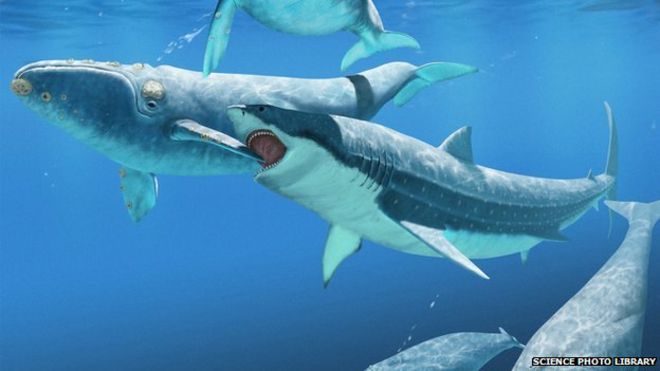 ichef.bbci.co.uk/news/660/media/images/78483000/jpg/_78483514_c0043741-megalodon_shark_attacking_a_whale-spl.jpg
Livyatan melvillei
Livyatan melvillei
is an extinct species of physeteroid whale. Fossilised remains, comprising 75% of the animal's skull, and large fragments of both jaws and several teeth, were discovered in the Pisco-Ica desert in southern Peru in 2008, in Miocene rocks 12-13 million years old. The skull of
Livyatan melvillei
measured 3 metres long, its longest teeth were 36 cm long, and it is thought its overall length would have been in the region of 13.5-17.5 m. It was similar in size and appearance to the modern sperm whale. Unlike the sperm whale, however, which only has functional teeth in its lower jaw,
Livyatan melvillei
had teeth in both jaws, and is thought to have been an aggressive predator, possibly preying on baleen whales.
svpow.files.wordpress.com/2010/08/leviathan_melvillei_reconstructie.jpg
Credit to Wikipedia